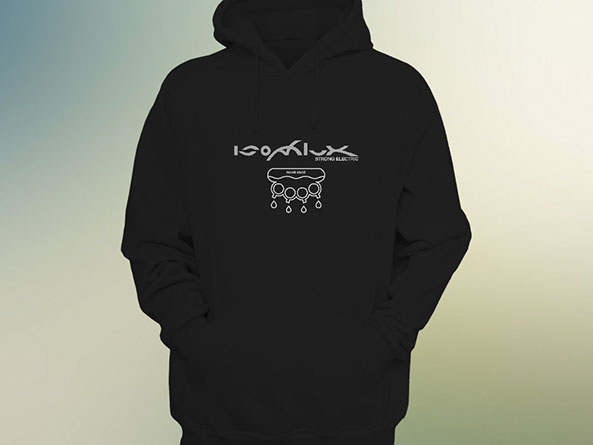 Isophlux "Strong Electric" Gosub Design - Black Hoodie (Hand Printed)
Miami Made Gosub designed Isophlux Strong Electric Hoodie. Hand screened by Gosub himself this hoodie represent the true underground DIY attitude. Isophlux Brass-knuckles is a one of a kind hoodie you won't find anywhere except here.
Isophlux - Strong Electric T-Shirt
Designed & hand screened by GOSUB this limited run heavy ultra cotton t-shirt is straight to the point "Strong Electric". This is a limited run print that was designed and printed @ Isophlux Studios. This is a limited run t-shirt so help support the real underground with this ultra rare shirt. You also get a copy of the classic "Watchers From The Black Universe" album.
Gosub- Violence of Life Single
Digital Release
Gosub brings you a sneak peak into the next Gosub album coming out in 2021. Going back to his roots of Bass and Freestyle Gosub brings the machine funk alive.
Checkout DVS NME's Dark Science Electro Presents: Gosub
A 1.5 hour mix by DVS showcasing Gosub's music from 2000~2020
Aug 21, 2020
Gosub- Cosmic Cannibals EP
12" & Digital Release
Gosub puts on his techno head to summons three dark infused techno spirts and brough the high priest Preston Sherwood in for some soul . High Ph acid baselines eat through dimensional noise over heavy 909 & 808 motors driving these dance these floor killers. Lastly, with a guest appearance by NYC's Preston Sherwood, he hammers out the keys and vocals on "The Ratio". Taking the listener in front of their one self to learn the true meaning of "I". This future classic is not for the faint of heart so be warned.
Gosub & Taimur - The Controller
Taimur and I decided that The Controller EP. needed to find it's way to digital formation. Vinyl tells a perspective, but digital has a story to tell too.. We listen differently based on the format vehicle. It's all about a different perspective so now available via Bandcamp and all major streaming services. Ha! ha! What bullshit.. We just decided to provide it digital so you can have it away from home..
Here's what RA said about it :
RA: "A dance floor hurricane from a storied North American minimal crew." Read More..
July 31, 2020
July 17, 2020 ISO-112EP Anthiliawaters Barcelona EP. 12" Vinyl & Digital
Anthiliawaters returns to Isophlux with "Barcelona" after last surfacing in 2017 on Denmark's Kondi imprint with the double vinyl version of "The Miles Without You" debut album. Anthiliawaters was originally produced by Shad T. Scott (Gosub) and John Wend. This time Shad goes it alone and continues the Anthiliawaters concept of deep electro / techno beats, complex melodies, and Gosub's trademark spooky vocals.
Keeping to the original DNA of Anthiliawaters Gosub drives deep house beats with classic Chicago organs dubbed out in old school tape delays. Inspired by Miami's radio station WRBD's weather reports back in the 80's Concept1 with heavy synth workouts over deep bass-lines infused with Midnight's steel drum synths assault on the listeners ear holes. "Night Time Comes" brings the trademark spooky vocals of Gosub speaking to a girl he can't sleep without with a response from a lead-line inspired by Miles Davis, all held together with deep dubbed bass-lines driving to Detroit style beats.
All in all the Barcelona EP is hits all sides and is a classic to have in any collection. Full colour artwork by Hawaiian Surf art artist Madek.
Preorder now at these fine stores:
July 9, 2020 ISO-112EP Gosub - Sunday At Battleship Key: Now on Bandcamp
Juno Records Review:
Killer deep spaced out electro tracks!!! Over 20 years ago Shad T. Scott and his pal Seven set up Isophlux Records, Miami's infamous first electronic imprint releasing, as they put 'techno, electro, funk, experimental, and anything good'. Now in year 2016, Shad under his Gosub alias releases this Sunday At Battle Ship Key titled EP for Barba Records, staying true to that initial principle. Its far away from just being good though, its beautiful and warm electronic music at its best, oozing chill and feel good moods. Original two tracks are accompanied with a remix by second time appearing on Barba - JTC aka Tadd Mullinix who this time nicely surprised us with his ol' school NY style house beauty. Overall one fine classic record this, period.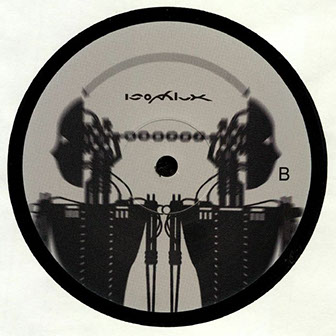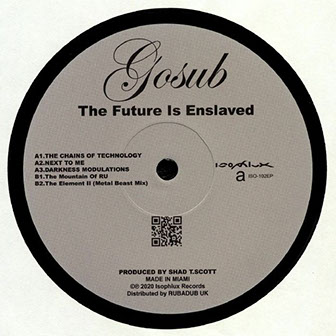 Gosub - The Future Is Enslaved 12" (Isophlux)
Limited hand signed copies now available via Bandcamp for $16 USD (Includes unlimited streaming and high definition download as well)
Gosub returns to Isophlux Records to bring back a classic release originally released on Point.One Recordings back in 2006. Original copies are trading on forums for crazy prices so we are happy to bring it back for people to enjoy without having to sell their car or children. Buy it Now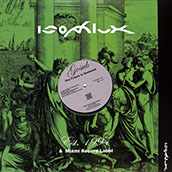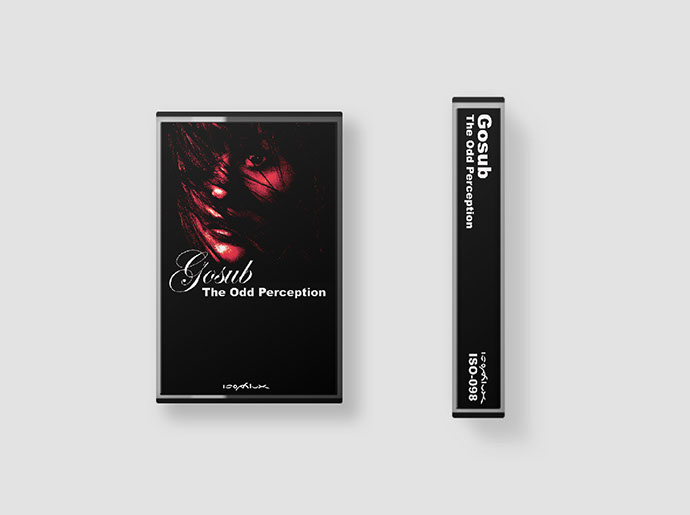 New Gosub EP Shipping July 7, 2020
Odd Perception is a six track EP to provoke a different mood then Gosub's usual pallet. These songs made him feel a certain way when he wrote and when he listened to them over that last few months. It was decided to put them together as a digital & analog cassette release to share and hopefully as with all of the Gosub productions provoke the listener and their mood
The Odd Perception cassette release is being released as a limited run cassette of 50 which includes additional bonus tracks.
CAT# ISO-098EP
Includes digital pre-order of The Odd Perception. You get 2 tracks now (streaming via the free Bandcamp app and also available as a high-quality download in MP3, FLAC and more), plus the complete album the moment it's released.
shipping out on or around July 7, 2020
edition of 50